I decided as a child that time travel was possible because when I sat in my grandparents' kitchen I felt as though I had traveled back in time. The formica table and chairs, the percolator, the 1940's era potholders -- these were used for decades before I became aware of my world.
I love antiques for the same reason, because they remind me of an earlier era, and a different way of life, and yet they can fit seamlessly into our 21st century life, too. I eat from a table that was made by my great grandfather more than 120 years ago. My dresser was bought around 1923 by my grandmother Cordelia. The table I use as a desk was built sometime in the 1930's.
Yesterday, I was looking through a drawer I hadn't looked through in years, literally, and I ran across a book called Household Science and Arts, by Josephine Morris. You can see a photo here. My copy is in better shape.
In the front inside cover I found the name of my maternal grandmother, Wilma Butler, and the date, 1912. I think it might have been a textbook for her when she was in high school, but I'm not sure. I know when she was small she was educated by governesses, but she was eventually allowed to go to school. I have her high school ring.
Just leafing through this book gives me a sense of time travel. Today, we are so spoiled because we can buy soap at the store very easily, and we don't have to spend hours making it. Our ovens are easy to regulate, without putting a piece of paper in them to test for heat. Instead of "paraffin paper" we have foil or plastic to wrap around our food and preserve it. We don't have to iron all our clothes. Being a homemaker in 1912 was incredibly time-consuming, hard work.
No wonder women were not overweight back then -- they didn't need to go to the gym when just doing laundry would sweat off 5 lbs.
What fascinates me about this book is that I get a glimpse into the world of young women when my grandmothers were young. The book itself constantly refers to young girls or young women -- the notion of a boy learning how to cook or take care of a home was simply unheard of back then.
A lot of the advice is not needed nowadays. For instance, there are detailed instructions for cleaning kerosene lamps and boiling clothes to wash them. [Then again, if we ever have a nuclear disaster, this book will come in handy..]

One can also learn how to use a coal range.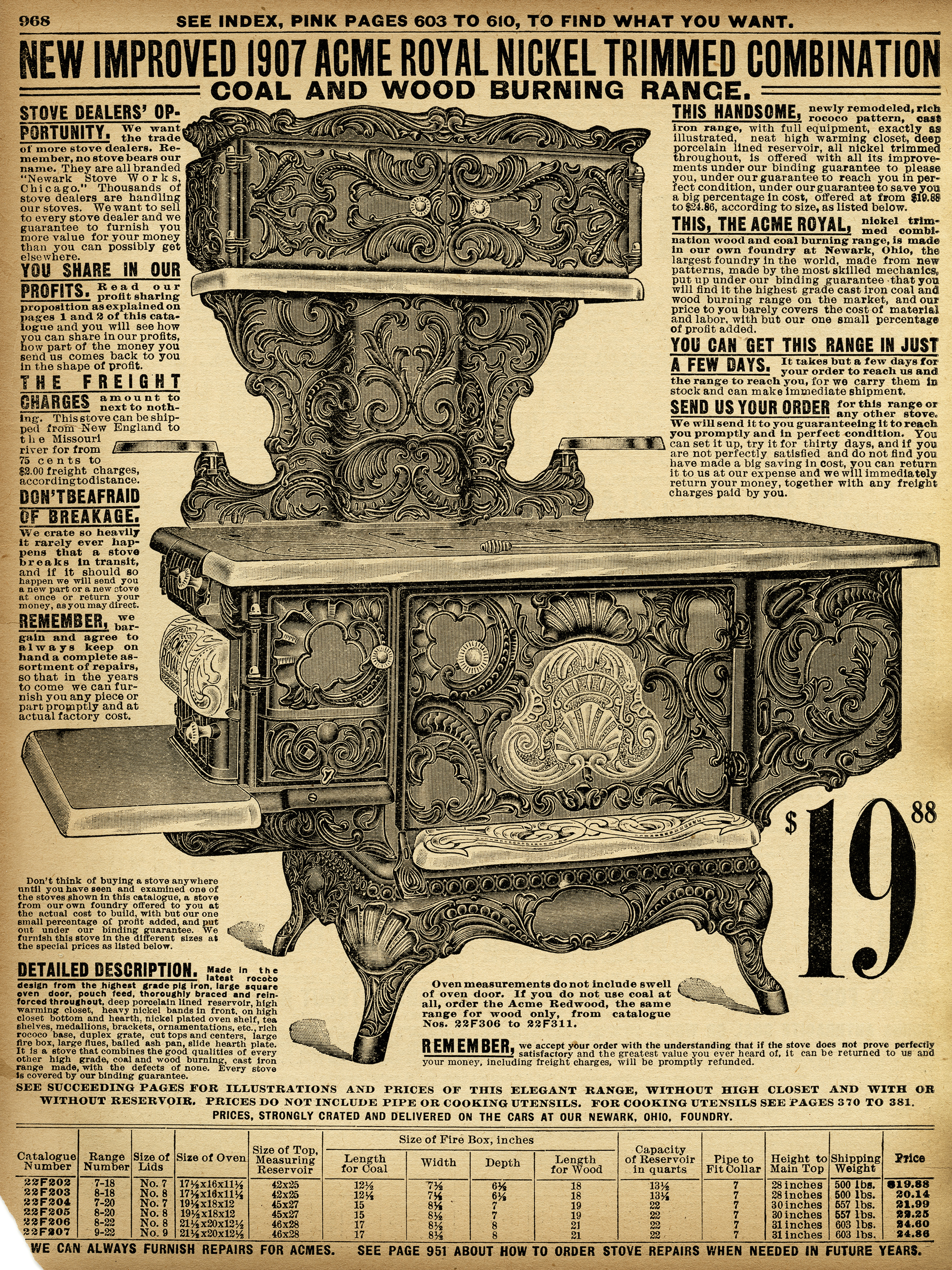 There is a recipe for making soap. It involves animal fat, borax, potash, and ammonia. A vegetarian would faint at the explanation.
Electric stoves were not common "on account of the high rates of electricity." Electricity was still a novelty when the book was published.
In perusing the chapter about cleaning I noticed that the main ingredients used were  soda, ammonia, and boiling water. A good scrub brush was also essential.
Not only were girls supposed to do these labor-intensive chores, but teachers were told to emphasize the importance of "...wearing in the kitchen a clean, attractice outfit."
So you were supposed to work like a mule while looking like a princess.
Girls also had to make the beds and clean the toilet every day.
The kitchen or dining table had to always be "...scrupulously clean and attractive."
On preparing a child's lunch: "more hearty luncheons should be prepared for a strong, robust child than for a quiet, delicate child." [ensuring the delicate child will remain delicate]
On how to furnish and make a home: "Good taste comes from the result of repeatedly choosing between good and bad." Huh??!
On furnishings: "A box should look like a box and not like a book or a pumpkin. We should not choose dishes disguised as vegetables, or electric lights wearing the outgrown form of candles, or gas heaters parading in the shapes of burning logs of wood."
"Window curtains have no excuse for hanging below the sill, where their work of softening the light ceases."
Wow.
Now I have to re-think my entire house...
STRANGE ADVICE
Sometimes the advice is puzzling and/or scary:
Clean behind the sink pipes with a wooden skewer.
"...biting into a slice of bread is avoided by all people of good manners." [My mother has repeated this advice to me; I must always break the bread into smaller pieces. No wonder this sentence is underlined in the book.]
Garbage is best disposed of by burning it, or if you have a garden, by burying it, as it becomes a good fertilizer. [an early advocate of composting, although she doesn't specify the proper types of "garbage" that make good compost]
Vegetables are used chiefly to give flavor. [Nowhere in any recipe in the book are there any sorts of herbs or spices -- not even garlic salt!]

Bread about 24 hours old is best for sandwiches.
A successful menu maker avoids having dishes similar to clog. [no, it's not a typo, the word used is "clog"]

Water is the great solvent of dirt.
**********************
MORE WEIRD ADVICE
There is an entire chapter devoted to caring for sick people. As Mother reminded me, there wasn't a lot to be done for sick folks 100 years ago - no antibiotics or penicillan, for instance - so staying in bed was the main order.
Among the advice about the sickroom: "The bed should be of iron. The mattress should be of hair." Don't know about you, but the prospect of staying in a hair bed all day is gross..

On Sanitation: "We have in the home two kinds of dust: visible or dead dust, and invisible or live dust... The live dust consists of microscopic plants, yeast, bacteria, and mold... It is this dust which causes disease and makes our food decay." [No wonder my grandmother was a world class germaphobe!]

On preparing fish: "They should be wiped thoroughly inside and out with a cloth wrung out of cold salt water, and then dried with a clean towel kept for that purpose." [Yes, every home needs the ever popular fish drying towel..]
"Because of the stimulating property called theine in tea and caffeine in coffee, young people should not use either as a beverage." [The author was from Boston and clearly didn't understand that in the South children are raised on iced tea.]
RECIPES
There are so many weird recipes that today they are puzzling. My mother didn't even recognize some of the ingredients. For instance, when was the last time you ate a quince?!
Want a chicken sandwich? Forget Chik Fil-A. Here's how to start: "Cut off the head and feet, and remove any pin feathers without breaking the skin."
Violence was apparently common in yesterday's kitchen. Some more strange recipes:
Oatmeal mush
Coffee jelly
Snow pudding
Irish moss blancmange
Boiled dinner [corned beef, cabbage, turnips, carrots, beets, potatoes]
Sour milk griddle cakes
Graham or rye muffins
Baked crackers with cheese
Oleomargarine ["made from the oily part of purified beef fat"]
Cream of green pea soup
Scalloped onions
Buttered cracker crumbs
Fried corn meal mush
above, the Hasty family around 1910

POLITICALLY INCORRECT COMMENTS
"As a rule the man is the producer and the woman is the spender." [A lot of women today wish this were the deal, I bet..]

"Bread has been an important part of the world's diet from the earliest ages. Many savage races grind grain and mix it with water, making simple forms of bread."
Clearly, bread is universal.
Someone needs to point out to the savages that water is a great solvent of dirt. Maybe then they won't be savages...
CONCLUSION
In 1912 women were not seen in public without wearing a corset and a hat.Today, young women go out in public with their boobs hanging out.

I wonder if my granddaughter will be reading some of my books 100+ years from now, and chuckling at the absurdity of life in 2015?? The world is changing so fast that I cannot imagine what life will be like in a hundred years.
When I was a kid I never really thought I'd be able to drive an electric car, or carry a tiny computer in my pocket, or get a robot to clean my floor. Never thought I'd be able to use my phone as a flashlight, a book, a calculator, a stopwatch, etc.

I hope my granddaughter will have a flying car and get to wear elastic-waist paints all the time. I hope she won't have to do backbreaking, primitive labor, like cooking food in a microwave oven, or vacuuming the floor, or putting dirty dishes in a dishwasher. Hopefully, we will have evolved.
Maybe time travel will be possible and I will be able to hang out with my descendants and regale them with stories of my wacky 20th century life.
However, the thought of them eating a piece of bread without breaking it into small pieces... fills me with horror. Some advice is timeless.