My son and I recently had a lively discussion about history. I kept seeing these videos of twenty-somethings being interviewed on the street and asked really basic history facts like What country did American break away from? and the answers he got were utterly wrong. So disturbing to see young people who couldn't answer the most basic history questions. I was so lucky to grow up with parents who thought it was really important to learn history.
The good news is that streaming services offer so many easy ways to see movies that can really help spark a discussion about the history depicted in the film. Most young people nowadays want their History presented in an entertaining fashion, not as dry lessons from a textbook. So I put together a few suggestions of movies to watch to understand American history. All of these movies should be jumping-off places for more detailed discussions of the events depicted and the actual History.
This 2005 movie stars Russell Crowe and Renee Zellwegger and it's an excellent depiction of life during the Great Depression. Plot: During the Great Depression, ex-boxer James J. Braddock (Russell Crowe) works as a day laborer until his former manager Joe Gould (Paul Giamatti) offers him a one-time slot against a rising young contender. After he wins a shocking upset, Braddock goes back into the ring full time, against the wishes of his frightened wife, Mae (Renée Zellweger). Dubbed "The Cinderella Man" for his rags-to-riches story, Braddock sets his sights on the defending champion, the fearsome Max Baer (Craig Bierko).
This 1996 movie stars Sandra Bullock and Chris O'Donnell and it's set in Italy during World War I. The cinematography is gorgeous and the acting of Sandra Bullock is uncharacteristically understated and subtle. You may also want to discuss the writing career of Ernest Hemingway, one of the giants of modern literature. Plot: This film is largely based on Hemingway's real-life experiences in the First World War as a young ambulance-driver in Italy. He was wounded and sent to a military hospital, where he shared a room with Villard (who later wrote the book the movie is based on) and they were nursed by Agnes von Kurowsky. Hemingway and Kurowsky fell strongly in love, but somehow the relationship didn't work out. 
Anyone who knows the Lord of the Rings Books knows their creator was a genius and JRR Tolkien led a remarkable life. It was largely shaped by his experience of losing several close friends during World War I. Full disclosure: I didn't like this movie the first time I saw it but in subsequent viewings I realize the genius of it. Plot: Tolkien explores the formative years of the orphaned author as he finds friendship, love and artistic inspiration among a group of fellow outcasts at school. This takes him into the outbreak of World War I, which threatens to tear the "fellowship" apart. All of these experiences would inspire Tolkien to write his famous Middle-Earth novels.
I first saw this movie as a child and I loved the music. Your typical twenty-something may hate the music, but chances are they will remember what the movie is trying to teach us about how the founding fathers shaped the birth of our country. Plot: In the days leading up to July 4, 1776, Continental Congressmen John Adams and Benjamin Franklin coerce Thomas Jefferson into writing the Declaration of Independence as a delaying tactic as they try to persuade the American colonies to support a resolution on independence. As George Washington sends depressing messages describing one military disaster after another, the businessmen, landowners and slave holders in Congress all stand in the way of the Declaration, and a single "nay" vote will forever end the question of independence. Large portions of spoken and sung dialog are taken directly from the letters and memoirs of the actual participants.
This 2004 TV movie is a powerful depiction of what women went through in order to gain the right to vote. I know a lot about feminist history but this film was a revelation to me. Young women have no idea what their grandmothers and great grandmothers went through. Plot: Alice Paul and the women of the 1917 Women's Suffrage movement fight for future generations right to vote and run for office. Sacrificing their health, marriages and the limited amount of freedom they had, women were imprisoned and force fed after picketing and hunger-striking against war-time president, Woodrow Wilson; but survived to see the results of their efforts.
I loved this 2016 movie about the brilliant women who were crucial in the space program of the 1950's and 60's. Plot: As the United States raced against Russia to put a man in space, NASA found untapped talent in a group of African-American female mathematicians that served as the brains behind one of the greatest operations in U.S. history. Based on the unbelievably true life stories of three of these women, known as "human computers", we follow these women as they quickly rose the ranks of NASA alongside many of history's greatest minds specifically tasked with calculating the momentous launch of astronaut John Glenn into orbit, and guaranteeing his safe return. Dorothy Vaughan, Mary Jackson, and Katherine Gobels Johnson crossed all gender, race, and professional lines while their brilliance and desire to dream big, beyond anything ever accomplished before by the human race, firmly cemented them in U.S. history as true American heroes.
I bet most millennials don't know that in the not-so-distant past it was illegal for people of different races to marry, in many states. This film is such a beautiful and powerful depiction of the landmark court case that changed that, and every young person should see it, IMHO. Plot: Richard Loving, a white construction worker in Caroline County, Virginia, falls in love with a local black woman and family friend, Mildred Jeter. Upon Mildred discovering that she is pregnant, they decide to marry, but knowing that interracial marriage violates Virginia's anti-miscegenation laws, they drive to Washington, D.C. to get married in 1958. Richard makes plans to build a house for Mildred less than a mile from her family home.
I was lucky because my parents actually remembered Pearl Harbor and we talked many times about how that event changed their lives and the lives of most Americans who lived in 1941. Plot: Pearl Harbor is a classic tale of romance set during a war that complicates everything. It all starts when childhood friends Rafe and Danny become Army Air Corps pilots and meet Evelyn, a Navy nurse. Rafe falls head over heels and he and Evelyn and Rafe hook up. Then Rafe volunteers to go fight in Britain, and Evelyn and Danny get transferred to Pearl Harbor. While Rafe is off fighting, suddenly one morning comes the air raid we now know as "Pearl Harbor." 
This is SUCH a powerful film and I've watched it many times now. It should have won a million Oscars, especially for Cynthia Erivo, who magically embodied her character. Plot: Based on the thrilling and inspirational life of an iconic American freedom fighter, Harriet tells the extraordinary tale of Harriet Tubman's escape from slavery and transformation into one of America's greatest heroes. Her courage, ingenuity, and tenacity freed hundreds of slaves and changed the course of history.
This is the last movie I saw in the theater before life got super hectic and I just quit going to the movies. Very powerful and heartbreaking story about the genius Alan Turing. Plot: It is based on the real life story of legendary cryptanalyst Alan Turing. The film portrays the nail-biting race against time by Turing and his brilliant team of code-breakers at Britain's top-secret Government Code and Cypher School at Bletchley Park, during the darkest days of World War II.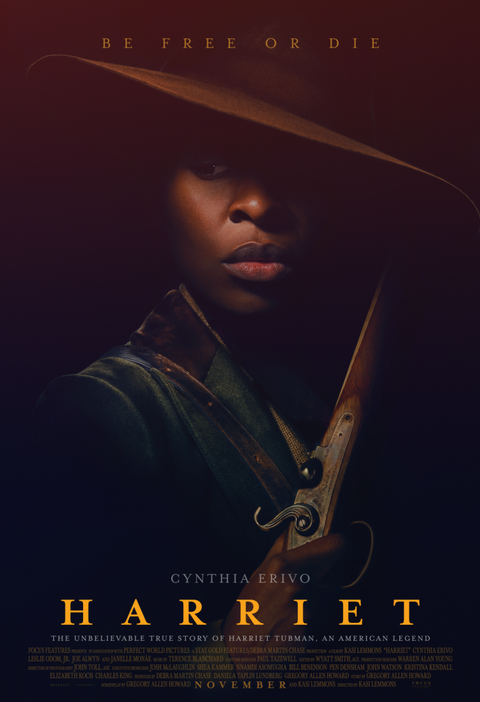 #teachinghistorywithmovies, #learningthroughmovies, #lessonsonfilm